Brought to you by Katharine Merlin for Town & Country.
For more astrology from Katharine Merlin, head to katharinemerlin.com.
Aquarius: January 21-February 19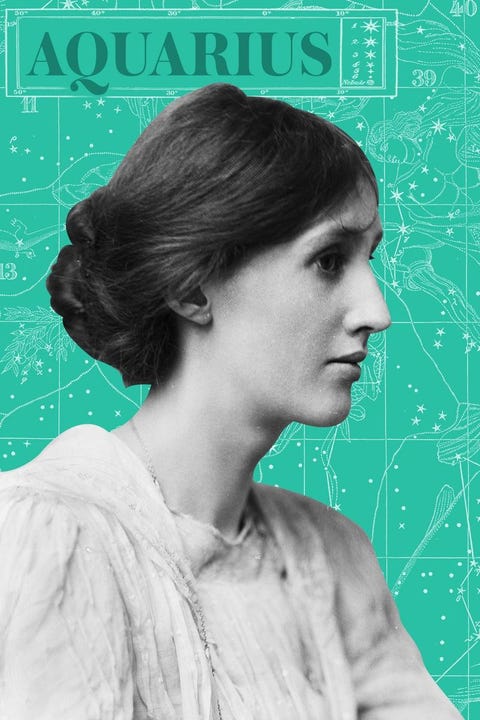 New paths and bold plans are in store for this month. Being born under the sign of individuality empowers you to dare to do what others often can't even imagine. Jupiter in Sagittarius is opening your eyes to possibilities that truly inspire you, so get out there and go after your dreams. Background issues of a personal nature may demand attention near the 18th, but try to be patient while handling any challenging situations.
February 1-15: : The new Moon in your sign on the 4th urges you to get going towards your hopes and dreams. And with Jupiter opening the way for you near the 8th, your horizons are widening, and the wind is at your back. Prepare for the unexpected near the 13th—and break free from restrictions that have been holding you back for far too long.
Image Above Aquarius: Virginia Woolf
Pisces: February 20-March 20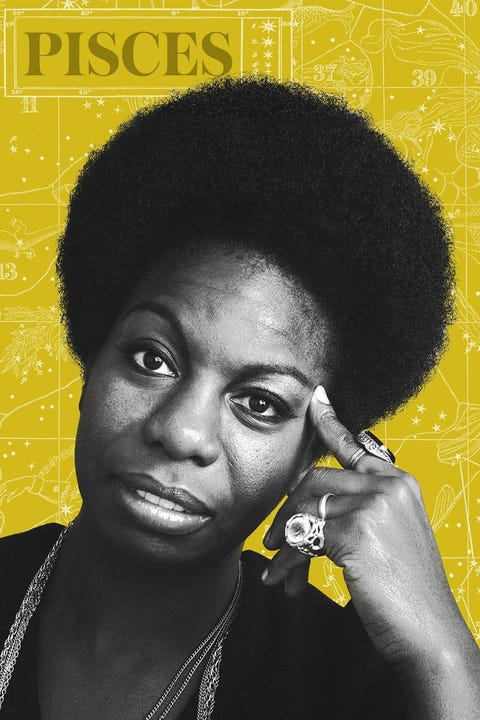 Be prepared to revamp unfeasible plans as February begins. The new Moon of the 4th is all about stepping back and resetting your compass, after which details will begin to cohere. Be cautious of overreacting and misinterpreting others' intentions during the middle of the month. With the Sun in your sign and Jupiter on your side, don't underestimate your ability to achieve your most ambitious aims.
February 1-15: Power struggles are in the air as February begins, but with Venus entering Capricorn on the 3rd, your ability to be outgoing and supportive of others will work very much in your favor. The 8th is a time when your star is on the rise, and your ability to strategize will take you where you want to go. After the 14th, Mars in Taurus urges you to speak up and tell it like it is.
Image Above Pisces: Nina Simone
Aries: March 21-April 20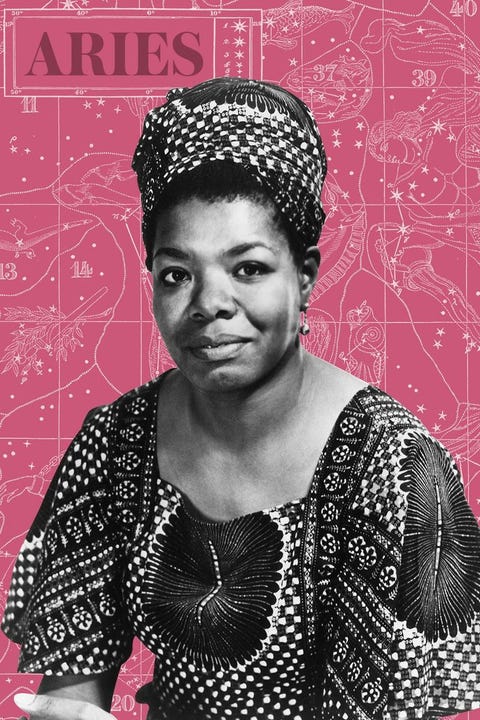 The Sun in Aquarius until the 18th spotlights the part of your solar chart accenting friends, associations, and widening your horizons. And with Venus rising to the zenith of your chart, you will be attracting all the right kinds of attention. It's time to get around and make your presence felt. With Mars in Taurus by mid-month, it's also time to get a firmer grasp on your financial affairs. You will break through barriers in late February by daring to be brutally honest.
February 1-15: Mars in your birth sign is firing up your spirit—but try to stay out of unpleasant clashes when vindictive Pluto is in your path on the 2nd. There is a bright new Moon on the 4th which can be wonderfully invigorating socially, and personally as well—but Mercury's entrance into Pisces on the 10th means that you need to mull over plans carefully rather than acting impulsive.
Image Above Aries: Maya Angelou
Taurus: April 21-May 21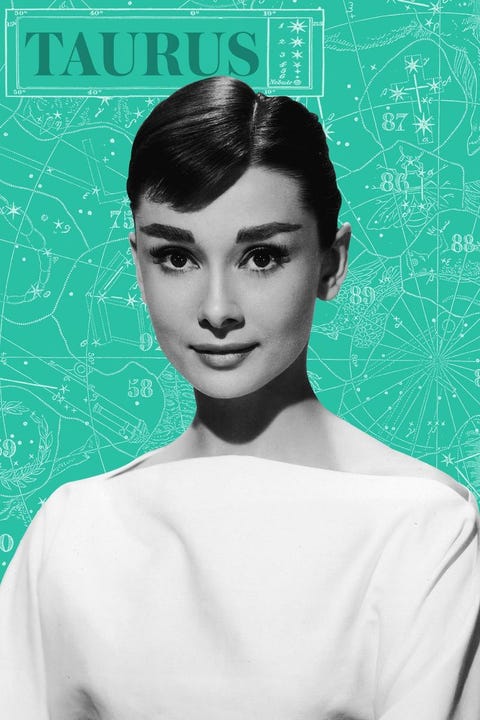 The Sun and new Moon in the sign of Aquarius make early February a dynamic period, especially professionally. Once Mars enters your birth sign mid-month, you will be unstoppable. Your temper and behavior may be more volatile than usual, but you're right to discard what's unworkable and strike out in new directions. By the 19th, you're also right to lighten up, kick up your heels, and enjoy life more fully.
February 1-15: The new Moon of the 4th is something of a page-turner for you, urging you to make long-considered changes and launch new plans. Don't hesitate to reach out for any support you need near the 8th, because Jupiter in Sagittarius is in your corner. And with rebellious Uranus contacting Mars in your sign on the 13th, it's out with the old and on with the new—so go for it.
Image Above Taurus: Audrey Hepburn
Gemini: May 22-June 20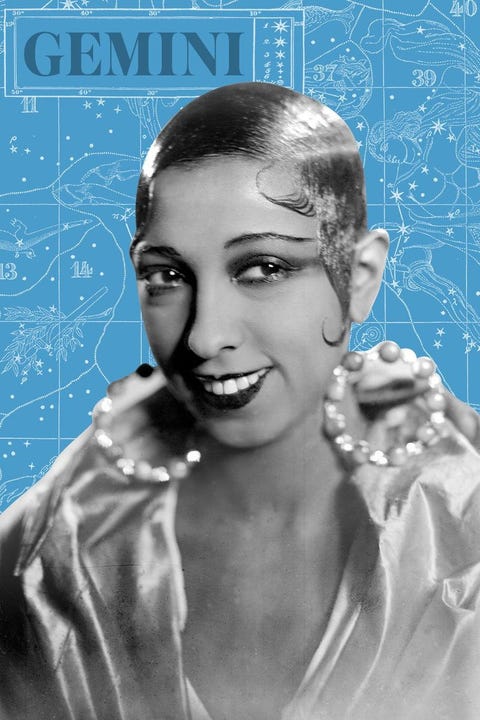 Early February is the time for launching projects—but it's also a brilliant period to take a trip or embark on an adventure. It's all about expanding your options, and with Jupiter now in your relationship angle, partners are prone to be particularly agreeable and helpful. With Mercury at the top of your solar chart, your ability to be convincing is your greatest strength, and you'll have little difficulty getting others to go along with your plans.
February 1-15: The 2nd is a time when someone's over-the-top behavior may be testing your self-control, so try to steer clear. With a bright new Moon on the 4th and positive aspects on the 8th, it's all about maintaining your perspective (the new Moon also accents travel for Geminis), and Mercury's arrival on your career angle by the 10th urges you to make your opinions public.
 Image Above Leo: Josephine Baker
Cancer: June 21-July 22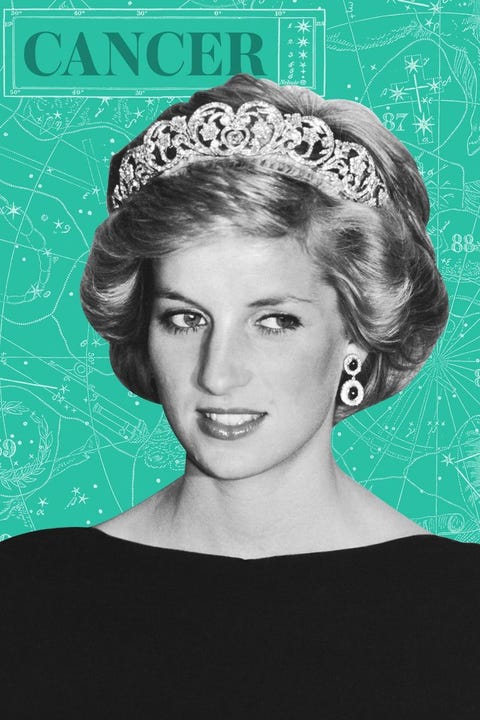 You may have to tread carefully to avoid confrontations near February 1st, but harmonious Venus's entrance into Capricorn will smooth over any volatile situations that crop up after the 3rd. In fact, relationships in general should be in a highly enjoyable phase, with the exception of the period near the 17th. New financial deals and arrangements promise to proceed favorably as well, and getaways will be spirit-lifters at month's end.
February 1-15: Mars in Aries pressures you to accomplish much as February begins, and the new Moon of the 4th is telling you to seek expert input on joint financial issues and personal challenges. Work-related situations, though, sparkle with potential with Jupiter well aspected on the 8th. And with Uranus powerfully configured near the 13th, new ventures may lure you into uncharted waters.
Image Above Cancer: Princess Diana
Leo: July 23-August 23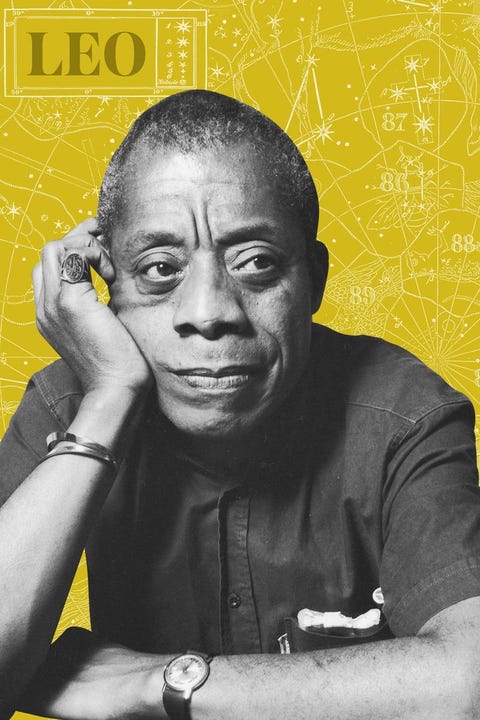 Factoring in others' needs and responses is a must this February, especially at the beginning of the month. The new Moon in Aquarius on the 4th will be a page-turner in a key relationship—if you're able to listen and be diplomatic. Aspects occurring mid-month hold a powerful charge around work and your public role, and if you feel an irresistible urge to change course or take radical action, you'll emerge as the leader you were born to be.
February 1-15: If you feel a bit out of sync with the world near the 2nd, by the 8th you're going to feel charged up and inspired about new plans—especially if you encourage others to play an active role in them. Mars entering Taurus will speed up the pace at work; and individualistic Uranus at the top of your chart is all about change and new directions.
Image Above Leo: James Baldwin
Virgo: August 24-September 23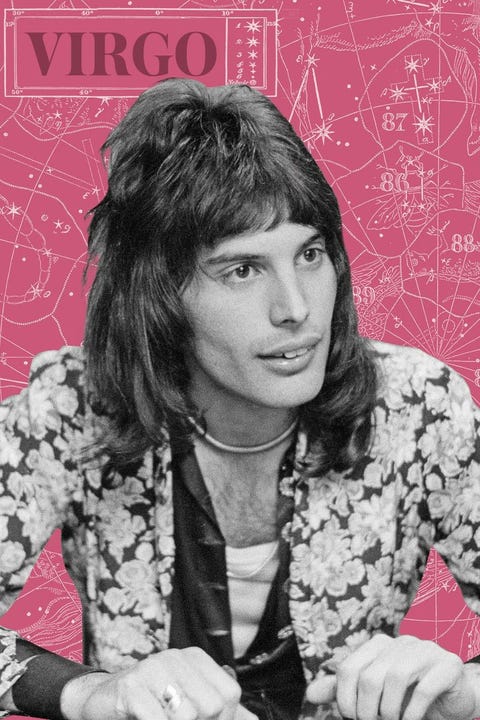 As February begins, fresh approaches and shifts of perspective are what's called for at work—and you should open your mind to the unexplored. Jupiter in Sagittarius is a confidence enhancer, so feel free to head in the direction you really want to go. It's time to stop being defensive and to tell it like it is, and though initial resistance may be unsettling, you'll create the momentum for more rewarding developments.
February 1-15: The 2nd isn't a promising time for reckless moves, especially financially, but with Venus entering Capricorn on the 5th, your social life begins to brighten. New endeavors, especially involving home and property affairs, are on an upward spiral. Mercury's entrance into your relationship angle on the 10th also accents communication breakthroughs, so tune in and be present.
Image Above Virgo: Freddie Mercury
Libra: September 24-October 23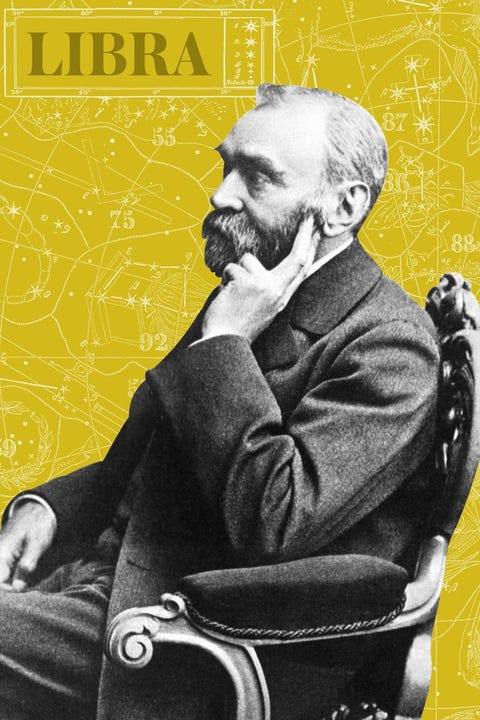 Brighten up your life during early February by accepting invitations and being a social animal. Libras thrive on contact and interaction, and even though harsh Saturn is putting pressure on you in numerous ways these days, it's time to give yourself a break. Creative endeavors will also nourish your soul. After the 18th, though, a bit of private time and introspection will lead to the kind of inspiration that takes you in new directions.
February 1-15: If others are under the gun or trying to control you near the 2nd, you can blame it on Mars. You, on the other hand, appear to be entering a more personally fulfilling period after the 3rd. Aspects gathering steam near the 7th promise to brighten up work-related projects and plans, and encourage you to speak up and lighten up.
Image Above Libra: Alfred Noble
Scorpio: October 24-November 22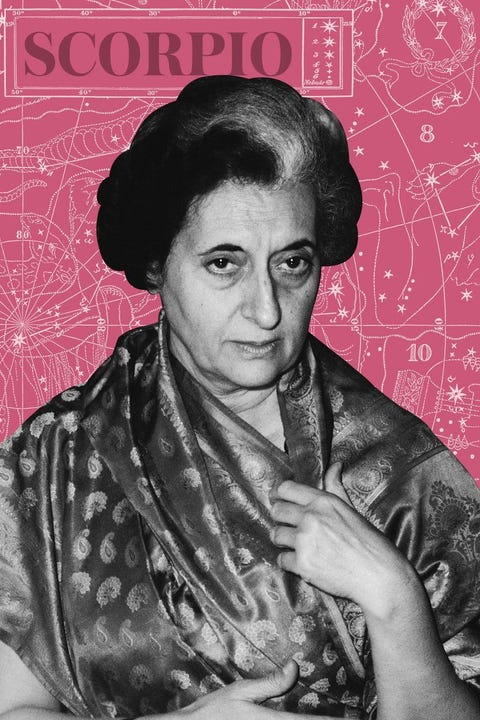 February rides in on new Moon energy that enlivens all matters having to do with home and family ties, and Mars in Aries ignites your ambitions in a somewhat obsessive fashion. Don't burn yourself out, and take the time to sort out troublesome interpersonal issues near the 17th. Once the Sun enters the watery, harmonious sign of Pisces on the 18th, you will feel an increasing urge to socialize and to follow your heart.
February 1-15: If others are at odds near the 2nd, make an effort not to get pulled in. You'll be feeling increasingly charged up as February unfolds, and the 8th is a promising moment for conducting conversations and achieving favorable agreements. Mercury's entrance into Pisces on the 10th accents creative projects and social events, and aspects near the 13th are all about thinking out of the box.
Image Above Scorpio: Indira Gandhi
Sagittarius: November 23-December 21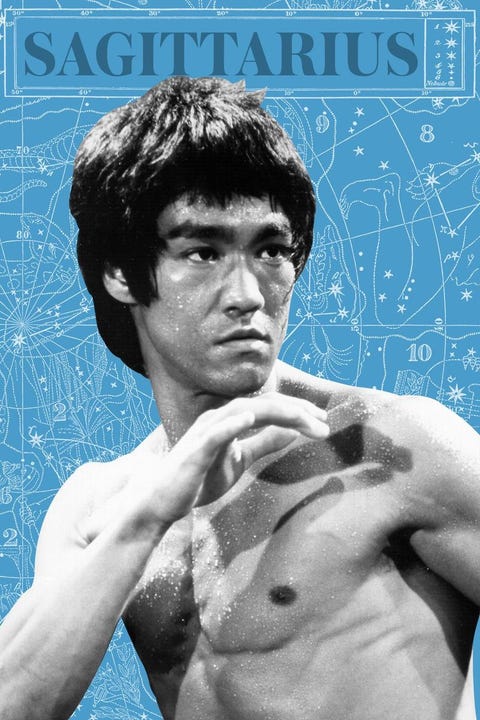 It really is time to speak up, reach out, and engage in the kinds of exchanges that open up new options. In fact, communication will be a big part of the story once Mercury enters Pisces on the 10th, and you will be making new plans which may involve lifestyle changes. Saturn in Capricorn is all about being prudent, so don't resist its spell: its presence in your financial angle will guide you to make the right decisions around new plans cropping up near the 22nd.
February 1-15: Others may not agree with your plans near the 1st, but try to avoid being impulsive and reactive. With a new Moon happening on the 4th, it's time to get out and about and promote your plans. The 7th through the 9th is the perfect time to engage others' interests, while dramatic aspects on the 13th are urging you to break the mold and be true to your own ideas and visions.
Image Above Sagittarius: Bruce Lee
Capricorn: December 22-January 20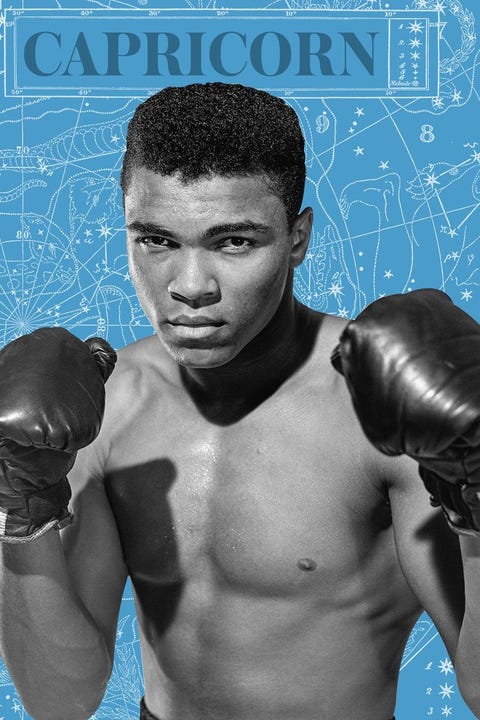 You seem to be feeling a bit explosive or at odds with the world early this month, and with inflammatory Mars out of harmony with your sign, various matters will be rubbing you the wrong way. But with Venus in your sign, you'll find that your ability to be charming and sympathetic will turn the tide in your favor. It's time to redesign your own future by stepping away from ingrained stances and roles. New paths are opening up.
February 1-15: With Mars colliding with Pluto on the 2nd, it will be all too easy to go on the attack and alienate everyone, so just don't go there. Instead, focus on crucial financial decisions when the new Moon lights up your monetary angle, and get yourself on a new track. Opportunities to make new arrangements shouldn't be passed up near the 8th—and your aspects near the 14th accent start-ups that can take you far.
Image Above Capricorn: Muhammad Ali
Jupiter's Blessings Be with You Always.